SHARE
DARKLab in collaboration with Swedish National Data Service SND and SweDigArk launches SHARE, a series of seminars in Archaeology!
Towards a full-3d documentation of archaeological sites: recent advances
This demo illustrates the potential of performing 3D-based digitization in a GIS environment and setting it as a standard procedure for single-context site documentation. More advanced tools for editing allow now archaeologists to take advantage of 3D surface models as a geometrical reference for drawing context boundaries in the form of polylines and polygons defined by 3D vertices. What new opportunities such a workflow can open for? What problems arise? The purpose of this dialogue is to foresee new directions in site documentation.
Excavations in 3D: Novelties turning into legacies
This presentation showcases the main milestones in the life cycle of early attempts to 3D intra-site research and discusses the impact of the constant technological shift in our novel - turning into old - digital tools and products. The retrospective consideration of relevant examples from Greece (Thessaloniki Toumba, Paliambela Kolindros) provides opportunities: a) to explore the reasoning and the links behind the choices in technological adoption, as well as detect some of their undesired effects, b) to provide an improved understanding of the requirements for digital data stewardship and sharing, c) to inform current attempts towards 3D excavation documentation and 3D functionality.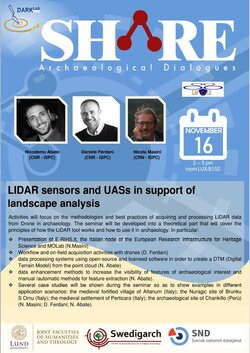 LIDAR sensors and UASs in support of landscape analysis
Activities will focus on the methodologies and best practices of acquiring and processing LiDAR data from Drone in archaeology. The seminar will be developed into a theoretical part that will cover the principles of how the LiDAR tool works and how to use it in archaeology. In particular:
Presentation of E-RIHS.it, the Italian node of the European Research Infrastructure for Heritage Science and MOLab (N.Masini).
Workflow and on-field acquisition activities with drones (D. Ferdani).
Data processing systems using open-source and licensed software in order to create a DTM (Digital Terrain Model) from the point cloud (N. Abate).
Data enhancement methods to increase the visibility of features of archaeological interest and manual /automatic methods for feature extraction (N. Abate).
Several case studies will be shown during the seminar so as to show examples in different application scenarios; the medieval fortified village of Altanum (Italy); the Nuragic site of Brunku S Omu (Italy); the medieval settlement of Perticara (Italy); the archaeological site of Chankillo (Peru) (N. Masinl; D. Ferdani; N. Abate).
Promoting active use of digital archaeological documentation
The publication of documentation and artefact descriptions is an inherent part of archaeology, and digital accessibility has been a moving target through the last decades. Digital access could be text descriptions, later 2D images and today 3D models can be published. This presentation will show developments and results of this work at the Museum of Cultural History (MCH), University of Oslo. The unit for Digital Documentation at MCH is responsible for archives, photography, field documentation with GIS and 3D documentation of artefacts and sites. The unit also coordinates UniMus:Kultur (https://www.khm.uio.no/english/research/projects/unimus-kultur/), which is the present cooperation among the five Norwegian university museums with Cultural Historical collections. The goal for UniMus:Kultur is to to create a new version of the CIDOC-CRM-compatible artefact database that has been in use since 2004.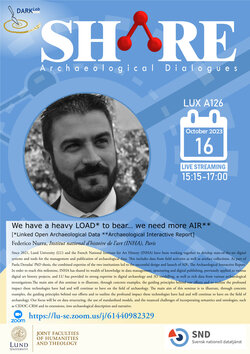 We have a heavy LOAD* to bear… we need more AIR**
[*Linked Open Archaeological Data **Archaeological Interactive Report]
Since 2021, Lund University (LU) and the French National Institute for Art History (INHA) have been working together to develop state-of-the-art digital systems and tools for the management and publication of archaeological data. This includes data from field activities as well as artefact collections. As part of Paola Derudas' PhD thesis, the combined expertise of the two institutions led to the successful design and launch of AIR: the Archaeological Interactive Report. In order to reach this milestone, INHA has shared its wealth of knowledge in data management, structuring and digital publishing, previously applied to various digital art history projects, and LU has provided its strong expertise in digital archaeology and 3D modelling, as well as rich data from various archaeological investigations. The main aim of this seminar is to illustrate, through concrete examples, the guiding principles behind our efforts and to outline the profound impact these technologies have had and will continue to have on the field of archaeology. e main aim of this seminar is to illustrate, through concrete examples, the guiding principles behind our efforts and to outline the profound impact these technologies have had and will continue to have on the field of archaeology. Our focus will be on data structuring, the use of standardised models, and the nuanced challenges of incorporating semantics and ontologies, such as CIDOC-CRM and its extensions, into archaeological description and narrative.